Staff & Directors
Professional Staff

Meichelle Arntz,
BSN RNC ACCE
CEO and Founder
I live and own a business in Santa Barbara. I became familiar with child welfare services and the courts through my work as a volunteer in the Court Appointed Special Advocates Program. I was shocked to find that Santa Barbara County has nearly 600 children in foster care, and an extensive need for foster/resource homes. I have seen first hand the frequent change of placement of our community foster children, overextended foster families, and small children in shelter care rather than with parents in homes.
I wanted to help and began my research. That is when I found Angels Foster Family Network in San Diego and became acquainted with Cathy Richman. Cathy has put in tremendous effort and support to help us get going in Santa Barbara. Thanks to her and her amazing program. The Angels program in Santa Barbara changes the lives of our littlest foster kids by offering stable, loving, safe homes as long as needed with no placement changes while in the foster system.

Holly Carmody
MBA
Executive Director
Holly Carmody became Executive Director of Angels Foster Care in June of 2017. She is passionate about providing safety and stability for babies and toddlers in our community. Before joining Angels, Holly was Director of Central Administrative Services at Community Action Commission of Santa Barbara County (CAC). She is a UCSB alumnus and holds an MBA from the Marshall School of Business at USC. Holly believes that all children deserve to be raised in a caring and secure home. She is proud to be part of an organization that is helping to build a brighter future for all of us by protecting the youngest members of our community.

Jennifer Mills,
LCSW
Clinical Director, North Santa Barbara County Social Worker
A transplant from the East Coast, I moved to Santa Barbara in 1989 to attend UCSB and have since never once thought of leaving. With undergraduate degrees from UCSB and a Master's in Social Work from UCLA, I have worked with several non-profit and government agencies in a variety of roles over the past 20 years. As a Licensed Clinical Social Worker, my practice has focused on early childhood mental health intervention, with an emphasis on supporting children and families who have experienced trauma and/or loss. For the past 14 years, I have also worked within the Juvenile Court and Dependency system in different capacities, first with Court Appointed Special Advocates (CASA) and since 2008 with Angels Foster Care. Both of these experiences have shown me how one person or one family can make a significant, positive and enduring impact on the direction of a child's life. I feel fortunate to work each day with remarkable families in our community who have opened their homes and hearts to children in need.

Stacey Anderson,
LMFT
Social Worker
I was born and raised on the Central Coast. I attended UCSB for my Bachelor's Degree in Psychology, and then Antioch University for my Master's Degree in ClinicalPsychology. I became licensed as a Marriage and Family Therapist in December 2014. My work experience includes doing social work for Child Welfare Services, as a therapist with Family Service Agency, and then as a service coordinator for Tri-Counties Regional Center. I am really happy with the experience I gained in those settings, and I am even happier to be joining the Angels team!
Through my various jobs, especially at Child Welfare Services, I became familiar with the process that a child goes through when taken into protective custody. That process can vary widely for each child, but what I know is that placement through an agency like Angels is one that is handled with care, concern, and love. I am thrilled to be a part of that process and hope to support the stellar reputation that Angels has built for themselves, as well as supporting all of the wonderful Angels families and children.
Board of Directors
Angels Foster Care of Santa Barbara has a wonderful all-volunteer Board of Directors.
Megan Orloff, SVP, Montecito Bank & Trust - President
Sue McCollum, JD, Attorney at Law - Vice President
Meichelle Arntz, BSN RNC ACCE - Director
Michele White, Realtor, Berkshire Hathaway HomeServices - Director
Shelise Paulson, Community Volunteer - Director
Davina Gomez, HR Generalist, Montecito Bank & Trust - Director
Advisory Board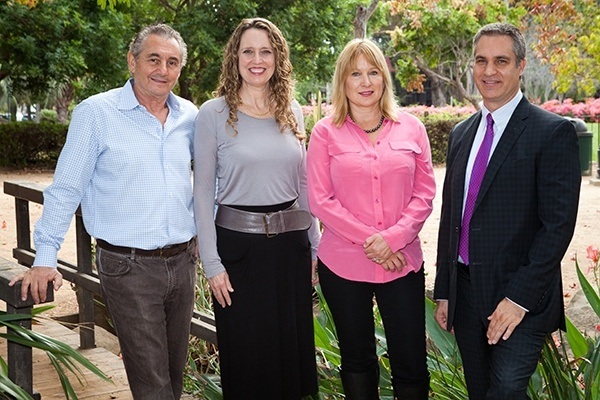 (Pictured: Jeff Lipshitz, Meichelle Arntz, Sheri Mardiat and Hugh Spackman)
Cindy Nott, MFT, retired Division Chief, SBC Child Welfare Services
Hugh Spackman, JD, Santa Barbara Attorney at Law
Jeff Lipshitz, MD, Perinatologist
Charish Barry, MD, Pediatric Medicine
Leanna Moore Watson, Sociologist
Lucy Ortega, MPAS, Physician Assistant
Sheri Mardiat, Volunteer Coordinator
Leanne Schlinger, Fundraising Committee Chair
Fundraising Committee
Angels is grateful for the support of many community volunteers who assist us with the planning for our annual fundraising events.
2018 Committee Members:
Leanne Schlinger
Sheri Mardiat
Alina Steel
Meichelle Arntz
Monica Babich
Karen Chin
Sara Donen
Jenny Hecht
Marsha Kotlyar
Holly Murphy
Shannon Neels
Susannah Rake
Megan Simon
Stephanie Smillie
Lizzie Tobias
Lori Baur
Michele White
Annie Williams
Katie Wisner
Kristi Marks
Ali Quivey