News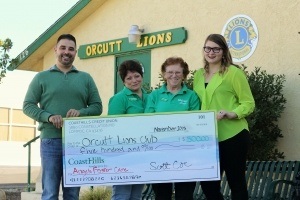 From left, CoastHills Credit Union Santa Maria Branch Manager James Thomas presents Orcutt Lions Lydia Magdaleno and Sheri Hughes a donation of $500 with the help of CoastHills Orcutt branch Member Services Officer Jamie Majewski. The funds go toward the club's support of Angels Foster Care, a Santa Barbara County-based charitable organization that specializes in placing children under 3 in stable foster homes.
Crime Scene Investigator Balances Life By Giving To Foster Babies
Coasthills Federal Credit Union | December 15, 2015
by JD Scroggins
Read the article here.