News
Advocate Aims to Be Angel to Foster Children
Santa Barbara News-Press | June 26, 2006
by Melissa Evans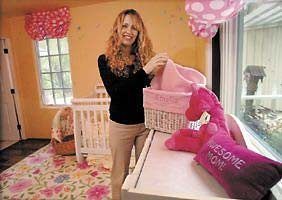 As a mother, Meichelle Arntz is shocked by the state of Santa Barbara County's foster care system.
Children have been shuffled from home to home, sometimes placed with families caring for five other children.
Many didn't feel wanted. Many didn't have any sense of stability, and lacked the ability to trust.
Some are even sent out of the county because there aren't enough homes here.
"I was really surprised at what was going on," said Ms. Arntz, a registered nurse who specializes in high-risk pregnancy.
After two years as a Court Appointed Special Advocate (CASA) -- a volunteer who helps kids wend their way through the court system -- Ms. Arntz decided to do something.
She began Angels Foster Care of Santa Barbara, a new agency that will pair local parents with babies and young children until they are either adopted or reunited with their birth parents. It's patterned after a program in San Diego.
The county already runs and licenses foster homes, but Angels is unusual: Foster parents would only be allowed one child at a time, the agency would only deal with children under 3 years old, potential parents would have to undergo strict psychological examinations, and they must commit to at least a year with the program.
"We want families who will be excited when they get a child," she said.
After a year of planning, she is ready to begin screening parents. They will be trained by the agency's only paid employee, a licensed social worker whose office is located in an attic-like building adjacent to Ms. Arntz' Hope Ranch home.
A board of directors, including a psychologist, attorney, physician, educator and other advisers will guide the process.
County officials say the need for this is tremendous. Santa Barbara has about 600 children in foster care, about one-third of whom are sent to counties because there aren't enough people here willing to take them in.
When children leave the county, it makes reunification with their parents much more difficult because they have less contact, said Maria Long, executive director of the CASA program.
"We're in a true crisis," she said. "The number of children in foster care has doubled in a very short time."
Officials attribute those increases to a number of factors, including poverty, and a spike in methamphetamine addiction, resulting in children being taken from their parents. The CASA program has about 100 children on a waiting list for volunteers.
One of the challenges of starting this kind of program is changing the public's perception of "foster parents," said Cathy Richman, who started the San Diego Angel's program in 1998 and has had great success, placing 160 children in foster homes so far.
"We've had to put a new spin on what it means to be a foster parent," she said. "We are looking to find the right family for the child. One hundred percent of the emphasis is on the child. We live in a society that doesn't really recognize the rights of the child."
Only about 60 percent of potential foster parents pass their psychological test, she said, adding that "anything that makes us raise our eyebrows, we pass on them."
Parents undergo an eight-week training session, which includes lessons on infant care, special needs children, bonding issues, nurturing, medical care and other topics. The parents then receive a state reimbursement of $425 a month.
Ms. Arntz, whose nonprofit program is licensed by the state, hopes to have about a dozen children placed by December.
Her program will operate similarly to the one in San Diego, focusing on younger children who haven't yet been subjected to numerous moves. The first two years of a child's life are the most critical, she said.
"They need a lot of attention," she said. "They need to bond with someone who they can count on."
About 50 percent of the children in Santa Barbara County end up being adopted, either by foster parents or someone else. The goal, however, is reuniting the children with their parents, she said.
Ms. Arntz has been caring for two young boys for the last year and a half. She also has five children, only one of whom is still at home. She and her husband, a physician, are adopting an 18-month-old this September.

The nursery in her wooded home is already decorated with a crib, curtains and toys.
"If you're going to ask people to do something, you have to be willing to do it yourself," she said.
"It's such a gift. We are lucky to have such a beautiful place to live, and I think when people see the need, they would be willing to help. Plus, it's fun to have a little one in the house."