News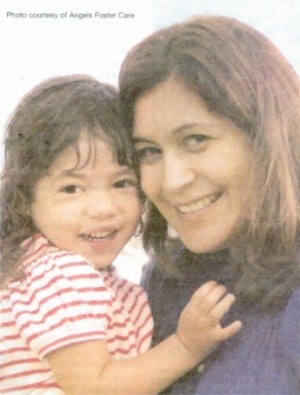 Angel Foster Care mother Jeannie Sprague enjoys a hug from her foster daughter Madeline "Maddie."
Angels Foster Care mother helps heal child's heart
Santa Barbara Family Life | May 1, 2013
by Angels Foster Care
Madeline, a foster infant from Santa Barbara County, was born with Hypoplastic Left Heart Syndrome and other congenital heart defects to a 16-year-old mother who, herself, was a foster child. This precious baby underwent open heart surgery the day she was born. Because of limitations in the foster care system, she was left alone to recover at the hospital with just the nurses to care for her. All alone for six weeks with no family.
Then Angels Foster Care stepped in. Little Madeline was released from the hospital and was in need of a stable home. It quickly became clear that she would need two adult parents who were committed to caring for a medically fragile child. The Sprague Family was in the process of becoming foster parents through Angels when they found out about Maddie. Their desire was to provide this little girl with a loving environment where she could heal and grow without changing caregivers, which coincided perfectly with the Angels fostering philosophy.
"When she first came to our home, she wouldn't look at us. If we tried to get in her field of vision, she turned her head away. She didn't smile or coo at us like other babies her age. But just a few weeks later, all that changed," said Jeannie Sprague.
At three months old, Maddie's first surgery repair began to fail and she was rushed down to the hospital for a second open-heart surgery. The family stayed with her at the hospital for a month where they got the opportunity to talk to and thank the nurses who took care of her the first time around. Jeannie's husband took his work on the road and they stayed at the Ronald McDonald house with their little 4-year-old son. The nurses and doctors remembered her and were so happy that Maddie had someone with her this time.
Their bonding with Maddie increased tenfold with this experience. In the Cardiothoracic Intensive Care Unit post-surgery, despite being heavily sedated and the nurses telling the family she wouldn't be able to react much, she responded to their voices. She turned her head in their direction. By the time they got home from the hospital she was already so attached she would cry if they started to walk away.
Maddie needed extra care and a temporary quarantine to avoid illness. Their commitment to have one parent at home with the children provided that care and she was able to heal faster.
Had Madeline been placed in a traditional foster setting, it is unlikely she would have received the attention she needed to heal. The Angels model is set up to support both the foster child and family that bring her into their hearts.
"I believe that Madeline is now a thriving, happy baby because she knew that a mom and a dad and a brother were finally there to love her. Angels Foster Care made that happen," says Jeannie. "I hope if you learn more about the incredible stories of the many Angels families that have given so much that you will feel the impact of the work that is being done to change babies' lives. There is a way to make a difference in foster care. Angels Foster Care makes a difference. I'm just grateful that we could be a part of it."
To learn more about the Angels program, visit them on the web at www.angelssb.com or call (805) 884-0012.